As rich in culture as they are in flavor, Malaysian dishes are the glorious culmination of native spices and the centuries-old secrets of Malay, Chinese and Indian cooks. Whether chowing down on street food or dining on a rooftop, expect to find brilliant combinations of flavors, like tamarind, lemongrass and chilies, all essential for the country's distinct curry blends and beloved sambal belachan (shrimp paste).
The word for the modern-day, tomato-based condiment "ketchup" is believed to have been made commonplace in Malaysia, but tomatoes weren't even an ingredient in the original recipe. The traditional concoction, kecap (pronounced "kay-chap"), consisted of pickled fish and spices and was introduced by Chinese settlers. English colonists fell in love with the delectable spread, and British chefs in London later beefed up the recipe with ground mushrooms, shallots and sometimes even walnuts!
1. Snack on street food all the way down PETALING STREET in CHINATOWN
Jalan Petaling has come a long way since its days of being called "chee cheong kai," or starch factory street, in the 19th century. The tapioca mill may be gone now, but KL's most popular market continues to make history with its cheap market wares and endless supply of street food.
Chow down on Petaling Street:
Roasted duck – Crispy and caramelized on the outside and juicy and tender on the inside, roasted duck can be found in multiple venues along Petaling Street, but locals recommend Sze Nhan Chye for a taste of some of the best.

Hokkien mee – Traditionally, hokkien mee is made with oodles of fat noodles stir-fried with pork, prawns, squid, egg and vegetables. Lard and sambal sauce are the standouts in this dish, but locals like the way Kim Lian Kee Restaurant cooks their noodles over a charcoal fire and ladles on a thick soy sauce gravy, like no other in the city!

Mua chi – To try these candies made with glutinous flour and coated with crushed peanuts, sesame seeds and sugar, ask anyone on Petaling Street to point you toward the Madam Tang Mua Chi Stall.
Check In to Olympic Sports Hotel, Step Out to Petaling Street and Chinatown, Kuala Lumpur
Discover more hostels and guest houses in Chinatown, Kuala Lumpur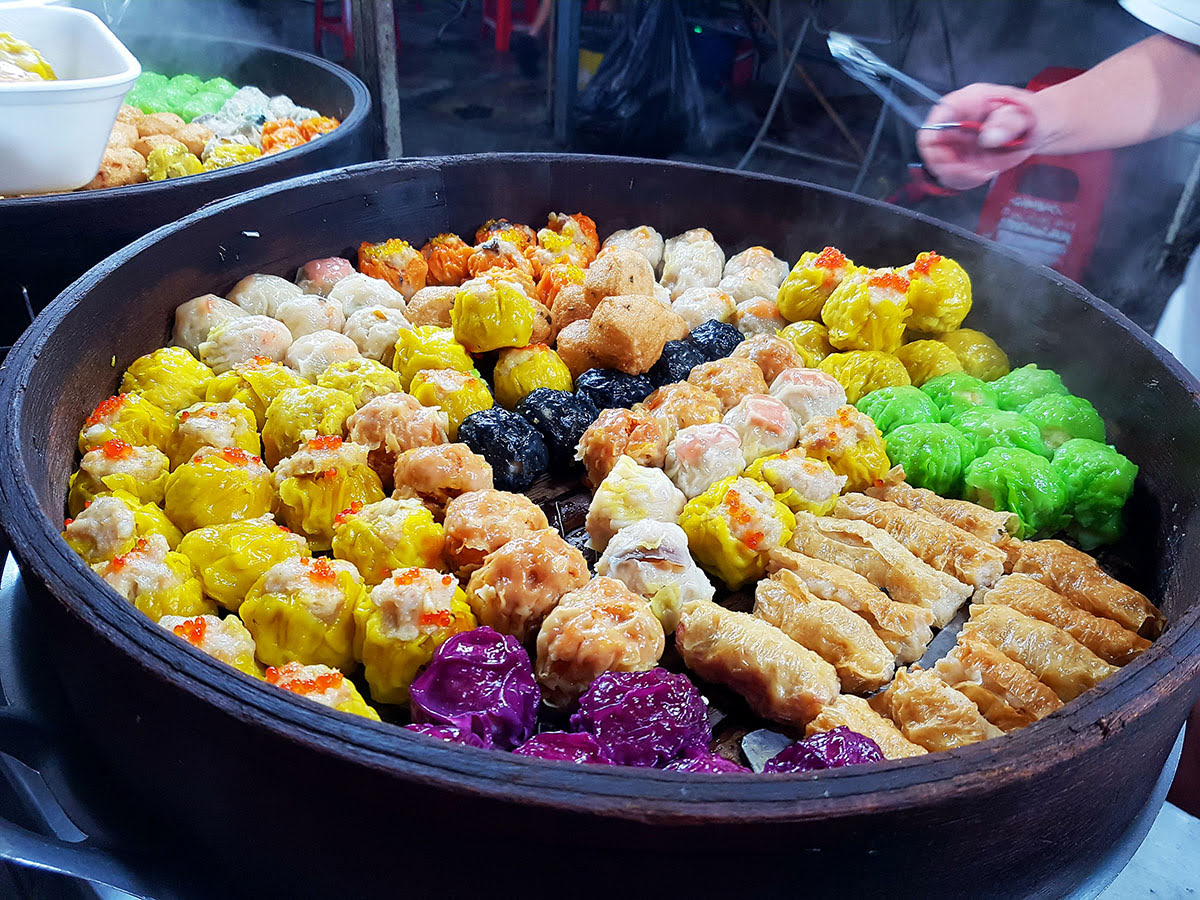 2. Sample Malaysian street food with locals on JALAN ALOR (FOOD STREET)
Eating street food on Jalan Alor is one of the most popular pastimes for locals in Kuala Lumpur. Join them in the heart of the Bukit Bintang district to sample Malaysian street food on a charming walkway lined with red Chinese lanterns, trails of charcoal smoke and hawkers cooking up some of KL's most delectable eats.
Famous foods on Jalan Alor:
Dim sum – Most often stuffed with ground pork or seafood, these handmade dumplings are steamed and sold by the piece, making them an easy snack to grab on the go.

Oyster omelet – Not just for breakfast, this omelet is crispy on the outside, fluffy on the inside and loaded with fresh, tender oysters. Kick it up a notch with the hawker's house-made chili sauce, guaranteed to be one-of-a-kind and served on the side.

Durian – Dare to try Southeast Asia's most funky fruit in a custard, deep-fried or on its own. Foodies travel the world over just to try the notorious treat, but locals concur that durian is an acquired taste!
Check In to The Mesui Hotel, Step Out to Jalan Alor (Food Street)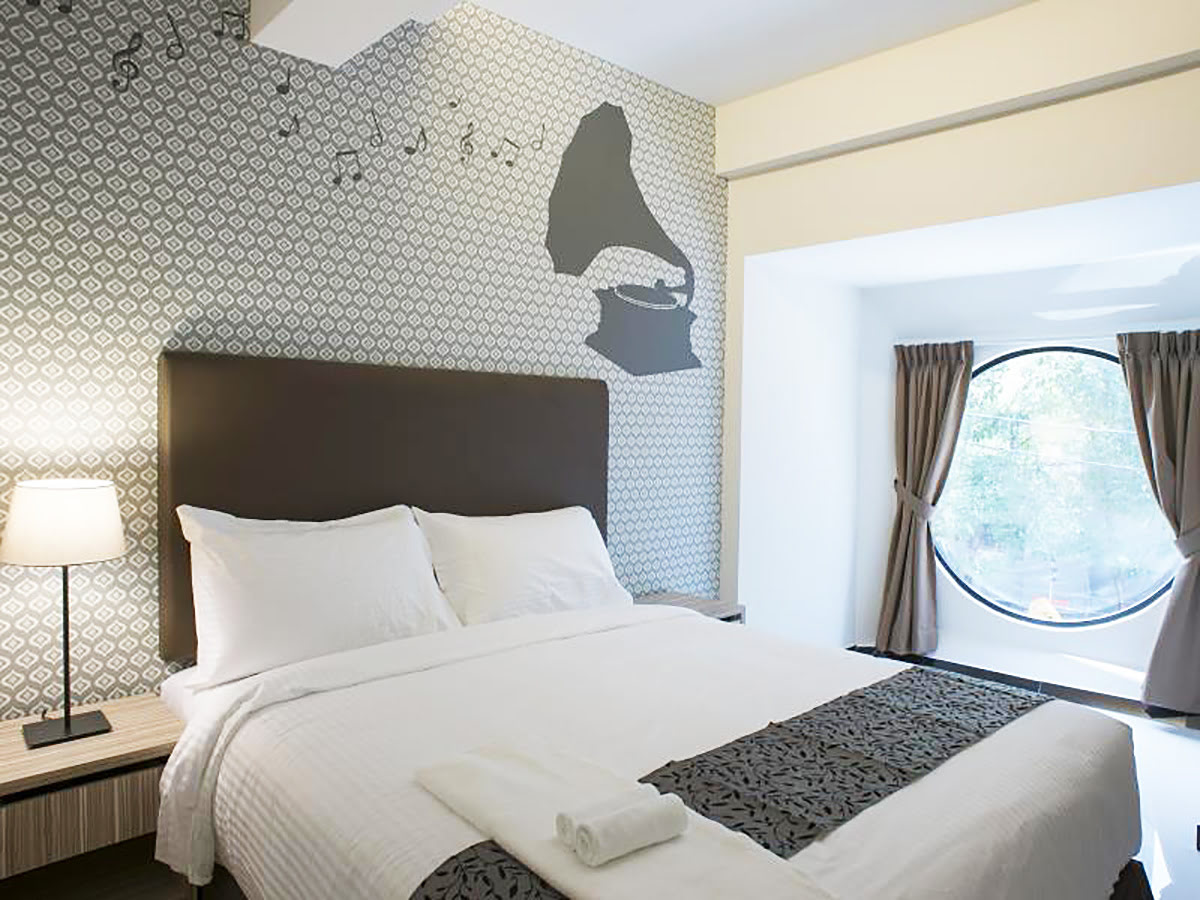 Discover more guest houses and hostels near Petaling Street Market
3. Fill up on traditional Chinese street food at JALAN SAYUR FOOD STREET (PUDU GLUTTON STREET NIGHT MARKET)
"Glutten Street" hawkers fire up their grills when the sun goes down, and locals descend on this small-but-mighty street food haven to gorge on everything from chicken satay (marinated, grilled chicken on a stick) to rojak (fruit salad with spicy shrimp paste).
Comfort food on Jalan Sayur:
Congee – Cantonese rice porridge is excellent for breakfast, but you can fill up on this traditional staple any time of day. The simple soup is most often combined with meat or fish and topped with slivers of ginger, chilies and soy sauce, but hawkers add extra ingredients, like boiled eggs and fried garlic, as well.

Chee cheong fun – Traditional Cantonese chee cheong fun is made by stuffing long rice noodle tubes with shrimp, beef or veggies and topping them with soy sauce. KL-lites, however, prefer to pile the meat and noodles on a plate and smother everything in a thick layer of homemade hoisin.

Steamed egg custard – Sweet and silky smooth, steamed egg custard is a gelatinous blend of eggs, milk and sugar.
Check In to Citin MasJid Jamek by Compass Hospitality, Step Out to Jalan Sayur Food Street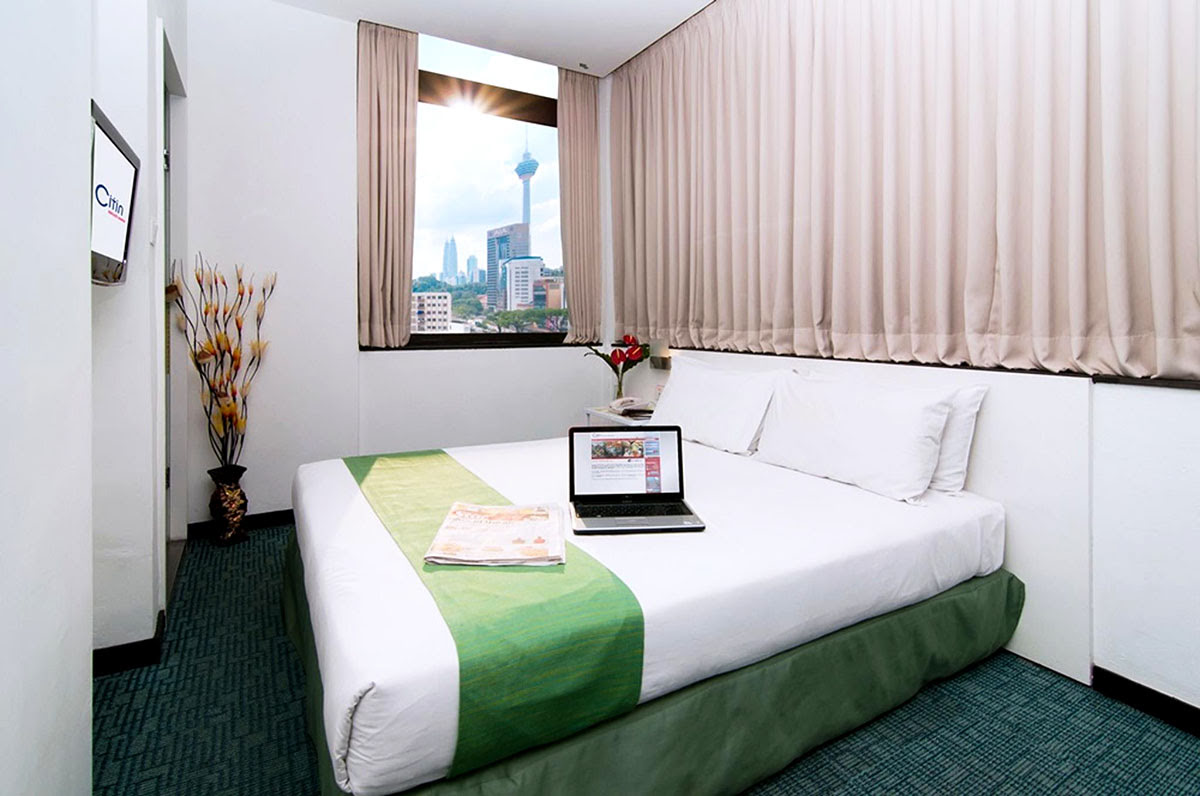 Discover more serviced apartments and guest houses in Bukit Bintang
4. Graze on Malaysian food every weekend at KAMPUNG BARU NIGHT MARKET
Open from 6 p.m. Saturday to 1 a.m. Sunday every weekend, the Kampung Baru Night Market is a Malay food paradise located in what locals refer to as "New Village." Take a 30-minute walk from Kuala Lumpur City Centre for unencumbered access to Malaysian buffets, freshly grilled seafood and smoky barbecued meats.
Taste these favorites at Kampung Baru Night Market:
Rojak – This chaotic mix of native fruits, cucumber, peanuts and sesame seeds is topped with a spicy shrimp paste and usually served wrapped in a banana leaf. Ask for two or three wooden skewers and share this heap of goodness, because eating together is a way of life in Southeast Asia!

Nasi campur – Grab a plate and pile on everything from grilled fish to jackfruit curry. Some buffets feature more than 80 items, and while you can eat all you want, you only get one trip through this massive smorgasbord!

Fruit smoothies – Lighten things up after a day of binging on street food with a refreshing mango, dragon fruit or coconut smoothie. Feeling a little crazy? Add some lime or mint for extra zing!
Check In to Sunway Putra Hotel Kuala Lumpur, Step Out to Kampung Baru Night Market
Discover more hotels and apartments in Chow Kit
5. Dine on international food in an upscale restaurant at JALAN BANGKUNG
Take a break from street food to dine in an international restaurant on Jalan Bangkung. Choose from a variety of western and Asian-fusion restaurants, all located along one, decked-out road in Bangsar, Kuala Lumpur's elite residential district.
Contemporary eateries on Jalan Bangkung:
Lucky Bo Café – Named after the owner's pet dog, Lucky Bo Café delivers international favorites and one of the most sought-after cuts of wagyu beef in the city.

Opus – Choose a sensuous dish from an Italian menu, and pair it with a bottle of wine, hand-chosen from the establishment's walk-in wine cellar.

U Restaurant – Great for kids and families, U Restaurant's Japanese delights include a full menu of sushi, sashimi and sake.
Check In to Capri by Fraser, Kuala Lumpur, Step Out to Bangsar Village
Discover more hotels and apartments near Bangsar Village I & II
– –
Source: Agoda