Deciding where to stay in Kuala Lumpur can be tricky! While the city's humble beginnings is rooted in a name that means "muddy confluence," KL has been proving to the world since the 19th century that it is far more than just a spot where two rivers meet. KL is the sole city in Malaysia that directly influences the global economy, and it also is home to the tallest twin towers on the planet. It was named in 2014 as one of the New7Wonders Cities, and it claims the highest safety ranking of any developing country. Need more reasons to visit? The city's impressively modern transportation system allows easy access to all of these popular districts in town!
Pineapple Hill, or Bukit Nanas Forest Reserve, is one of Malaysia's oldest and smallest nature reserves, and it lives right in the heart of Kuala Lumpur! Visitors are welcome to explore the rainforest, now known as KL Forest Eco Park, which features a canopy walk, an herbal garden and timber gallery, as well as hands-on activities and a museum.
1. CHINATOWN KUALA LUMPUR
Situated around the ever-bustling Petaling Street, Chinatown Kuala Lumpur oozes with local charm and cultural appeal. Geared toward the backpacker, the area offers a multitude of budget accommodations and hostels surrounded by the city's most popular outdoor flea market, infinite street food options and loads of trendy boutiques, coffee shops and bars.
Check In to Amigo Hotel, Step Out to Petaling Street
Discover more hostels and guest houses in Chinatown, Kuala Lumpur
2. BUKIT BINTANG
Younger crowds looking for upscale entertainment and dining experiences head to Bukit Bintang. The area is packed with ultramodern malls, including the impressive Pavilion KL, which offers eight shopping complexes and streets full of local boutiques. Zion Club is the district's hottest nightclub, and Havana Bar & Grill are where locals go for live music and house-made cocktails. Dine on almost any type of international cuisine in Bukit Bintang, or go straight for the street food at Jalan Alor Night Food Court. Budget accommodations are available in the area, but Bukit Bintang is best known for its luxury suites and home stays.
Check In to Federal Hotel, Step Out to Pavillion KL
Discover more hotels and apartments in Bukit Bintang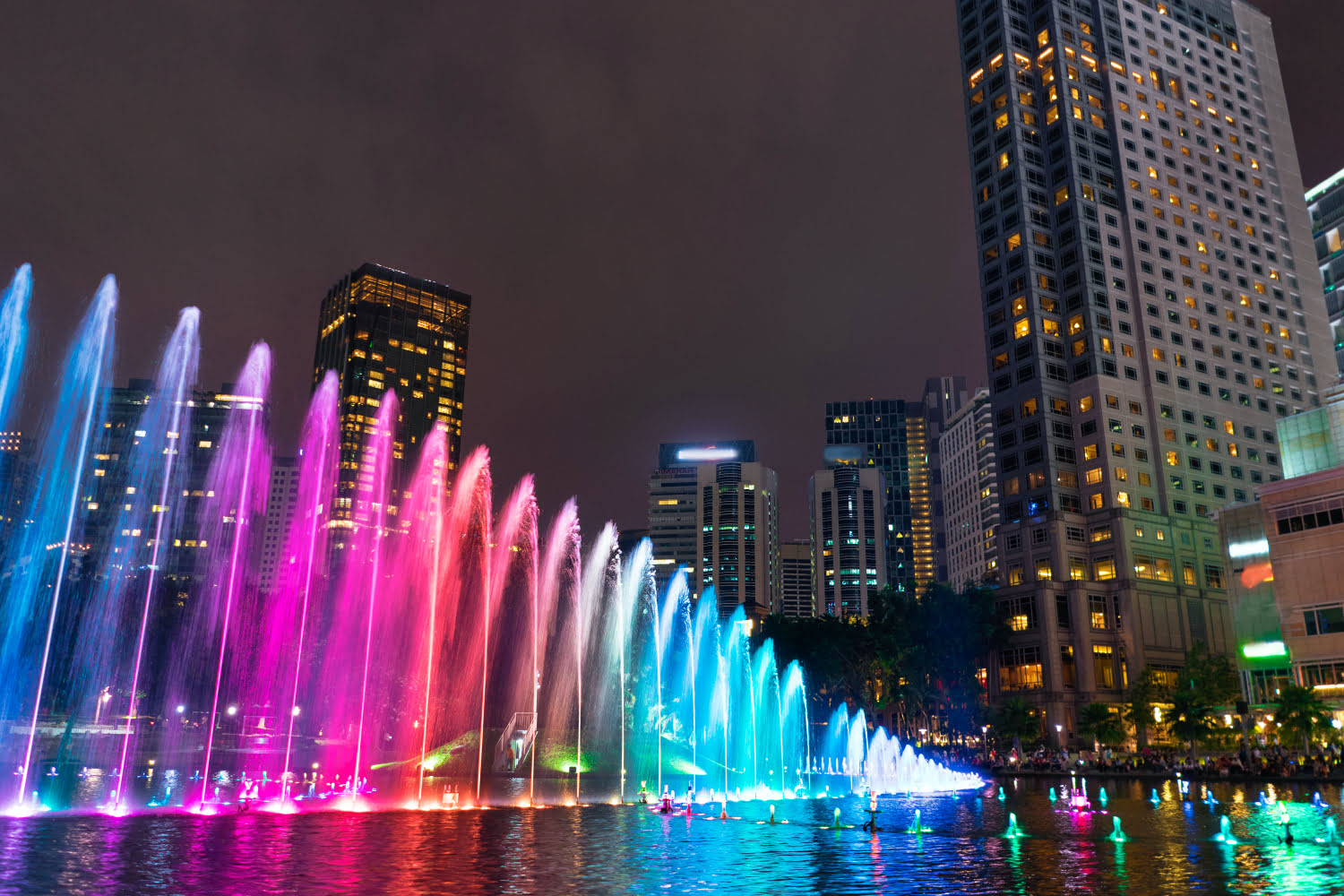 3. KLCC (KUALA LUMPUR CITY CENTRE)
Find an impressive mix of fine arts, cultural performances and look-alike skyscrapers in the heart of the city's business district, Kuala Lumpur City Centre, known locally as KLCC. Cross the highest double-decker bridge in the world to visit KL's most notable, swaying attraction, the Petronas Twin Towers, and take your pick of 5-star accommodations throughout the district. This ultramodern section of town is an essential site for business functions and rooftop dining but also offers a natural escape to KLCC Park, featuring walking trails, a playground, wading pool and choreographed fountain shows.
Check In to Setia Sky Residences, Step Out to KLCC Park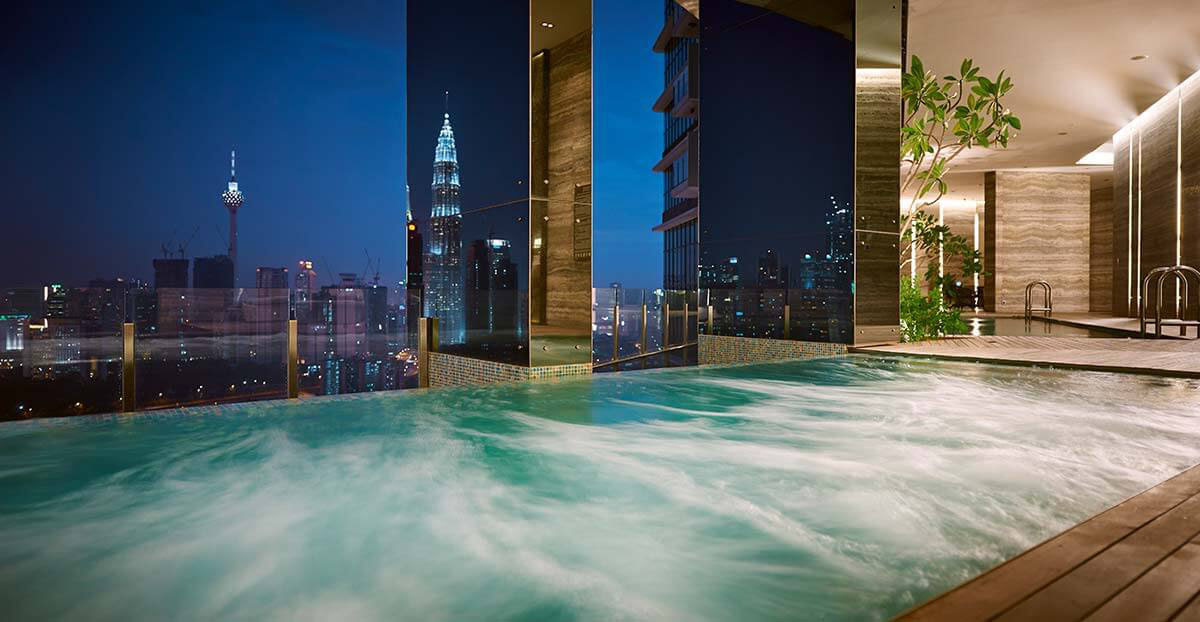 Discover more hotels and apartments in KLCC
4. BRICKFIELDS (LITTLE INDIA)
An endearing combination of history, architecture and culture, Brickfields is KL's hub for authentic Indian food and local trade. Follow your nose through the winding alleyways of Little India to find shopkeepers selling Indian spices and savory snacks. The market area offers traditional clothing, souvenirs and mounds of textiles, as well. For indoor shopping, make your way to KL Sentral, the city's main railway station that doubles as an exclusive shopping venue and residential area. Backpackers appreciate the area for its selection of budget-friendly hostels, but Brickfields also contains a fair share of 4- and 5-star accommodations, as well as easy transportation to KL's other popular districts.
Check In to Aloft Kuala Lumpur Sentral Hotel, Step Out to KL Sentral
Discover more hostels and guest houses in Brickfields (Little India)
5. PETALING JAYA
Active families looking for quality entertainment can bank on a great holiday in Petaling Jaya. A suburb of Kuala Lumpur, Petaling Jaya is ripe with theme parks, escape rooms and educational activities. Kids might have a hard time deciding between paintball, ice skating or rock climbing, but adults have some tough choices, too! Petaling Jaya is one of the nicest districts for rooftop dining, friendly pubs and live music after dark. It's also home to 1 Utama Shopping Centre, one of the 10 largest shopping malls in the world.
Check In to O'Boutique Suites Hotel, Step Out to 1 Utama Shopping Centre
Discover more serviced apartments and boutique suites in Petaling Jaya
– –
Source: Agoda